On the afternoon of December 15, "Summary of 1000 cases of pancreatic surgery in 2020 and ISGPS international guidelines press release" was held in Jiangsu Province Hospital(the First Affiliated Hospital of Nanjing Medical University). Good news came at the meeting that under the regular epidemic prevention and control, the number of pancreas surgeries in Jiangsu Province Hospital exceeded 1000 this year. At the same time, Professor Miao Yi of the Pancreas Center lead the publication of ISGPS guideline, which marked the increasing academic influence of the Pancreas Center of Jiangsu Province Hospital both in China and abroad. Professor Tang Jinhai, Secretary of the Party Committee of Jiangsu Province Hospital, Professor Zhao Jun, Deputy Secretary of the Party Committee and president of Jiangsu Province Hospital, Zhan Yiyang, Zhu Gen, Vice president Wang Xiaodong and other participants attended the press conference, Professor Jiang Kuirong, director of the Pancreas Center, and Professor Miao Yi, director of the Pancreas Research Institute of Nanjing Medical University and director of the Pancreas Center of Jiangsu Province People's Hospital made speeches successively.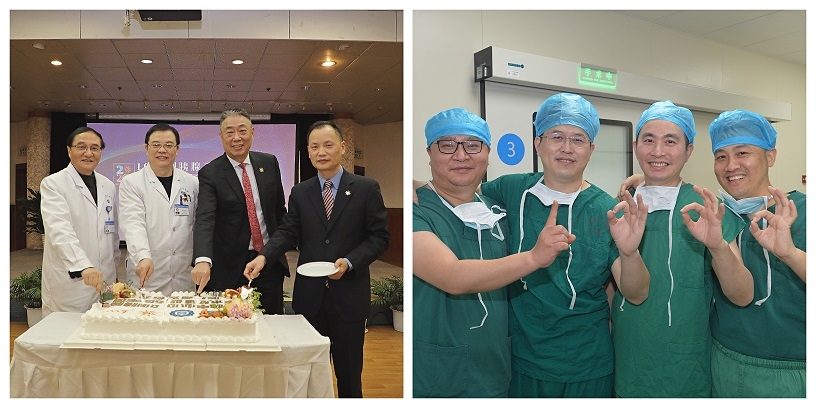 Annual Surgery Volume Exceeded 1000: Veritable "High-Volume Center"


The Pancreas Center of Jiangsu Province Hospital (the First Affiliated Hospital of Nanjing Medical University) has been developing rapidly since its establishment in 2014. The annual number of pancreatic surgeries has grown from just over 300 to more than 1,000 nowadays. As of December 11 this year, the center had completed 1002 pancreas surgeries, including 762 pancreatectomy surgeries, including 423 pancreatoduodenectomy. Pancreates-related malignant tumors were treated by surgery in 496 cases, with a radical resection rate of 72.2%. Of these radical operations, 58% were for radical operation of pancreatic carcinoma, which was more difficult and complex than conventional pancreatic surgery. Among them, there were 83 cases of combined portal vein resection and reconstruction, 10 cases of combined abdominal artery resection, 40 cases of combined colon, liver and other viscera resection, and 102 cases of various expanded dissection. Pancreatic disease is a rare disease. Therefore, according to the NCCN Guidelines, more than 20 cases of annual pancreatic surgery can be enlisted " High-Volume Center ".

Professor Miao Yi said that pancreatic surgery is the most difficult among abdominal surgery with the highest technical threshold of the profession and is regarded as the "crown pearl" of abdominal surgery. Nowadays, hospitals whose annual pancreatic surgery exceed 1000 can be counted at one hand and all of them are famous pancreatic centers over the world.
Multidisciplinary team building: All-weather multidisciplinary diagnosis and treatment of pancreas

Professor Jiang Kuirong said that the pancreatic center of Jiangsu Province Hospital has never stopped its pursuit of "faster and safer surgery" in the case of relatively difficult operations. He also introduced that the pancreas center innovatively adopted a multidisciplinary organization model at the beginning of its establishment, which broke the barriers of diagnosis and treatment between different departments. By combining pancreatic surgery, intensive care, digestive endoscopy, chemotherapy and other professional talents in the field reasonably, the center has built the integration of "real-time" MDT pancreas specialist and provide patients with a complete coverage of all-weather, multidisciplinary medical services, make the clinic patients in the center of the pancreas can obtain real-time diagnosis and multidisciplinary discussion which significantly improve the quality of medical treatment and greatly reduces their time cost. In addition, with anesthesia, surgery nursing, iconography, interventional radiology, pathology and other departments' support and in-depth cooperation, the pancreas disease medical service quality continues to improve, specific measures include: establishment of optimization process of accelerated rehabilitation after surgical anesthesia for pancreas; establishment of a pancreatic cancer and pancreatic cystic placeholder standard image report process; establishment of new specification and standard procedure for postoperative pathological report of pancreatic cancer, etc.

Technical innovation, model optimization: difficult treatment to deliver high-quality answers

Professor Miao Yi introduced that after decades of development, the pancreas center in Jiangsu Province Hospital has developed a series of characteristic diagnosis and treatment techniques widely recognized both at home and abroad. Techniques includes the arterial sheath removal technology, single improvement technology of mucous membrane of the pancreatic duct-pancreatic intestinal anastomosis, duodenal pancreatic head mass organization core biopsy technique, and radical resection of pancreatic cancer by arterial approach etc.

It is understood that the pancreas center also carries out Enhanced Recovery After Surgery project (ERAS) in domestic clinicals, presides over the Expert Consensus on Accelerated Recovery after Pancreaticoduodenectomy. A prospective registry of complications from pancreatic surgery has been fully introduced this year. According to statistics, the quality of pancreatic center surgery this year and the international top pancreatic center published report data are similar, in the perioperative mortality, unplanned secondary surgery rate and other aspects have some advantages. Professor Jiang Kuirong told the reporters that the diagnosis and treatment mode of preoperative accurate assessment, intraoperative accurate operation and postoperative accelerated rehabilitation can shorten the postoperative hospital stay, promote the recovery of patients and save the treatment cost. "By using this model, the vast majority of patients recover quickly, and what used to be called the 'king of cancer' -- pancreatic cancer, the most invasive and complicated pancreaticoduodenectomy in abdominal surgery, and the intractable problems of old age and contraindications -- can now be solved". He also said that in the recent cases of pancreaticoduodenectomy, all patients were discharged 6 days after operation, while most patients were discharged 14 days or longer after pancreaticoduodenectomy.

Publishment of ISGPS International Guideline: The milestone of Pancreas Surgery in China to the World

Professor Miao Yi said that since its establishment, the Pancreatic Center of Jiangsu Province Hospital has always adhered to the road of internationalization, fully learned advanced medical technology and management concepts from abroad and provided first-class and high-quality services for patients with pancreatic diseases.

According to Professor Miao, this year, he was the first author and corresponding author, with Dr. Lu Zipeng, deputy chief physician of the Pancreatic Center, as co-first author. Management of the pancreatic transection plane after left (distal) pancreatectomy: Expert consensus guidelines by the International Study Group of Pancreatic Surgery (ISGPS), compiled on behalf of the International Group of Pancreatic Surgeons (ISGPS), were published in the journal SURGERY. This is the first time for domestic scholars to lead the publication of international clinical guidelines in the field of pancreatic surgery, marking the more in-depth communication between domestic and international counterparts in the field of pancreatic surgery, and also an important sign of China's pancreatic surgery to the world." The publication of the guideline provides comprehensive evidence and expert interpretation for the management of pancreatic stump after tail resection and the prevention of postoperative pancreatic fistula and other complications, and helps doctors to improve the quality of surgery and reduce complications." Miao said.

ISGPS is the maker of international guidelines for pancreatic surgery. The series of guidelines issued by ISGPS has profound implications for pancreatic surgery. This is the first time for Chinese scholars to lead the publication of ISGPS guidelines, marking the further enhancement of the internationalization of pancreatic surgery in China.