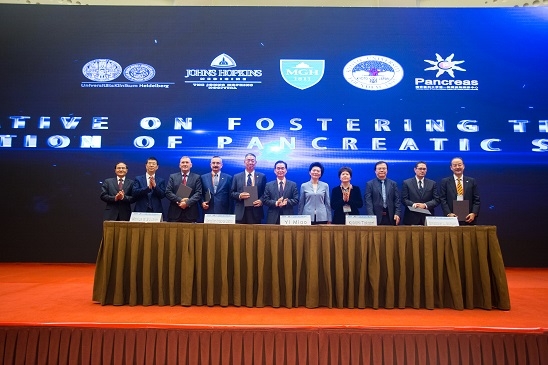 At the opening ceremony of the Nanjing Pancreas Forum 2018 on October 12, 2018, Professor Markus Büchler from Heidelberg University Hospital, Professor Christopher Wolfgang from Johns Hopkins Hospital, Professor Carlos Fernández-del Castillo from Massachusetts General Hospital, Professor Kyoichi Takaori of the Kyoto University Affiliated Hospital and Professor Yi Miao of the Pancreas Center of the First Affiliated Hospital of Nanjing Medical University co-sponsored and signed the international "Pancreas Center Talent Training Alliance" proposal. The alliance aims to unite the power of the world's top pancreatic centers to provide a platform for growth and development for young pancreatic surgeons around the world. The platform will become a collaborative network of scientific research and surgical education focusing on pancreatology, and a community for young physicians, promoting exchanges among young pancreatic surgeons from various countries.
Nanjing Pancreas Forum 2018, as an important node of the alliance, has always reflected the care for the development of young surgeons in the setting of the conference. During the conference, Short Oral Presentation was set up at the main venue for young pancreatic surgeons at home and abroad. A 3-minute speech + 2-minute comment can ensure that this session will not dilute the keynote speeches of the experts of the conference, which can provide young scholars a valuable opportunity to show their academic level in front of the world's top pancreatic scholars. A total of 16 young scholars from home and abroad gave a short and wonderful report on the latest research progress of the team in the diagnosis and treatment of pancreatic diseases. At the same time, the conference also set the award of Best Short Oral Presentation in this session. Through the objective scoring of experts at home and abroad, the first, second and third prizes of Best Short Oral Presentation of the day were selected. Below we summarize the academic content of the award-winning young physicians and their speeches during the two-day academic conference.
First Prize
Zipeng Lu
The First Affiliated Hospital of Nanjing Medical University
Dr. Lu conducted a multi-omics approach to the survival prediction of patients with pancreatic cancer. The short speech was highly praised by experts at home and abroad. Professor Fernandez-del Castillo from the Massachusetts General Hospital of the United States stated that this research has important clinical significance and broad clinical application prospects. Currently, surgery is the only way to cure pancreatic cancer. How to effectively prolong the survival time of patients with pancreatic cancer after surgery is the goal unswervingly pursued by surgeons. However, to date, no effective method has been found to screen patient groups that can benefit more from surgery + adjuvant therapy. Dr. Lu's innovative integration of multi-omics indicators of patients before surgery was used to predict the survival of patients after manual radical surgery, and the initial results were expected. The results of this research are expected to provide a new perspective and decision basis for clinicians when making treatment decisions for patients with pancreatic cancer.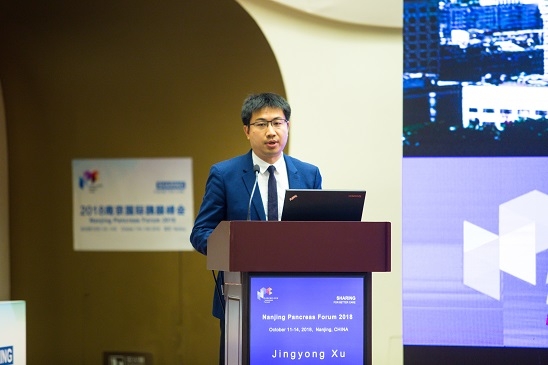 Second Prize
Jingyong Xu
Ministry of Health Beijing Hospital
Dr. Xu from Beijing Hospital brought "the clinical application of pancreatic mesenterium anatomy and pancreatic total mesenterium resection". First, he proved the presence of the pancreatic mesentery at the anatomical level, introduced us to the concept of the pancreatic mesenterium, and proposed pancreatic mesentery excision. At the same time, clinical research evidence shows that compared with traditional surgery, pancreatic pancreatic mesentery excision has a greater number of lymph node dissections and a higher R0 resection rate. There was no difference in the length of postoperative hospital stay. Subsequent survival analysis showed that patients who underwent pancreatic mesentery excision had significantly reduced recurrence rates of half a year and one year. Shows the superiority of pancreatic total mesenterium resection. This provides a good reference and ideas for surgeons to improve the traditional radical resection of pancreatic cancer.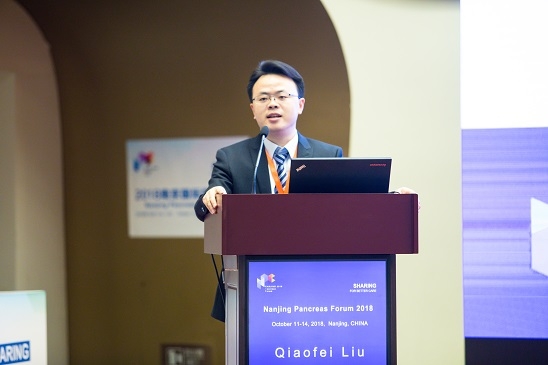 Third Prize
Qiaofei Liu
Peking Union Hospital
Dr. Qiaofei Liu from Peking Union Medical College Hospital reported on "Immunomicroenvironment and Chemotherapy for Pancreatic Cancer". He said that the prognosis for pancreatic cancer is extremely poor, with a five-year survival rate of only 8.2%. Therefore, for the treatment of pancreatic cancer, in addition to surgical treatment, chemotherapy is also required, and chemotherapy can be applied to tumors of various stages. The results of Dr. Liu's team show that immune cells occupy a large part of the pancreatic cancer tumor microenvironment and are closely related to the patient's prognosis. Further research showed that gemcitabine chemotherapy induced more M2-type tumor-associated macrophages to be produced. Next, the combination of chemotherapy and macrophage suppression achieved significantly better results in animal models than chemotherapy alone. This provides a new idea for clinical drug combination therapy for pancreatic cancer.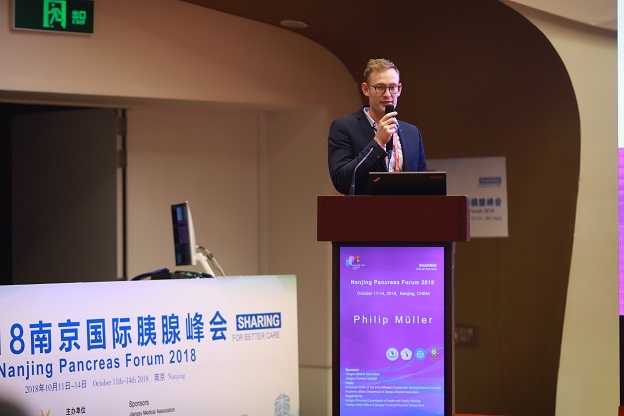 First Prize
Philip Müller
Klinik Beau-site Hospital
Dr. Philip Müller first reviewed with us the history of the development of treatments for pancreatic diseases: open surgery, laparoscopic surgery, robotic surgery, and gastroscopy necrotic tissue removal. Later, in his report, he showed us a completely new surgical approach: "duodenal-pancreatic duct endoscopic approach-'micro-surgery' in the pancreatic duct. Through the natural lumen approach, minimizing trauma and avoiding reconstruction anastomosis in traditional surgical methods. Although the results reported by Dr. Philip Müller are surgical operations performed on animal models, they provide clinicians with new ideas and new treatments for pancreatic diseases.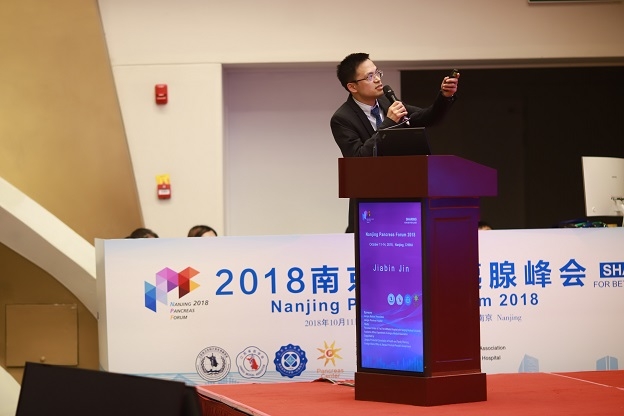 Second Prize
Jiabin Jin
Ruijin Hospital
Dr. Jin Jiabin brought a report entitled "A Feasibility Analysis of Robotic Pancreatic Uncinate Tumor Resection". Through a clinical study of 40 samples, they showed that the operation time of robotic pancreas dissection was not prolonged, and the incidence of postoperative complications was 42.5%, but the main reason for the high postoperative complications rate was postoperative A and B pancreatic fistula. At the same time, he also summarized the important points to pay attention to when using robotic surgery to remove tumors of the pancreatic uncinate, including: pathological selection of non-malignant pancreatic tumors, the distance between the tumor and the pancreatic duct> 3cm, and the use of ultrasound endoscopy to locate the tumor before surgery Location, excellent postoperative management. However, in the end, he also emphasized the need for more evidence to prove the feasibility and effectiveness of using robotic surgery to remove tumors of the pancreatic uncinate process.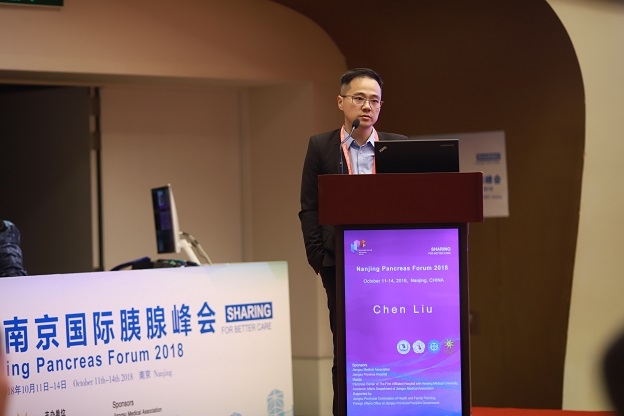 Third Prize
Chen Liu
Fudan University Cancer Hospital
What Dr. Liu Chen brought to the conference was "Laparoscopic radical antegrade modular pancreaticosplenic resection (L-RAMPs) case sharing". Through a review of previous studies, he stated that RAMPs surgery has a higher R0 resection rate and a larger range of lymph node dissection than standard pancreatic body and tail resection. In this report, Dr. Liu Chen showed us the L-RAMPs surgery they performed. In the process, he demonstrated his deep understanding of radical pancreatic cancer surgery and superb laparoscopic pancreatic surgery techniques.
Young doctors are the future of medicine, and how to train the next generation of young pancreas specialists in the current environment of explosive growth of medical knowledge and continuous innovation of clinical technology is an important issue for major pancreatic centers in all countries to consider and explore. This conference made a preliminary exploration on how to build a training platform for young physicians, and our young doctors showed their thinking and responsibility for the treatment of pancreatic diseases in the conference, and gave their positive responses.